THIS CAR IS NOW SOLD - FOR MORE INFORMATION ON 7-SERIES CARS PLEASE VISIT:
http://www.the7seriesregister.co.uk

CLICK HERE FOR: 2000 E38 740i INDIVIDUAL - HYDRAULIC BOOT - MASSAGING SEATS
Full BMW Service History 1999 E38 740i 7-Series Facelift V8 4.4Ltr Vanos
This car has the usual E38 refinements plus:
Dynamic Stability Control M Steering wheel TV 2006 SAT NAV 10-speaker 6-CD Hi-Fi
Timed AUX ventilation Dual-Band Phone with PAYG SIM Ambient lighting
Tiptronic BMW 18" Alloys Memory seats c/w auto-dipping mirror
Servotronic Steering Park Distance Control Digital Dual Climate Control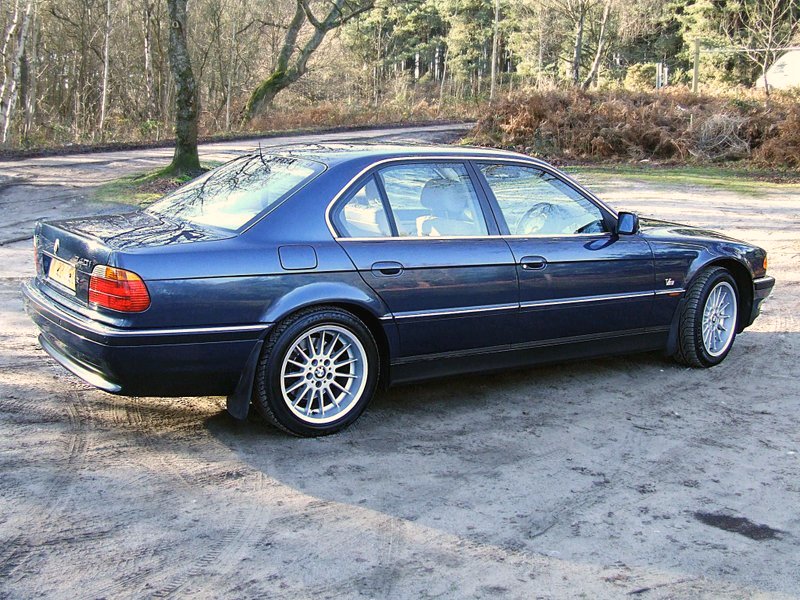 This is my 740i E38 BMW, I've had four 7-series BMW's and this is by far the best so far (I've just bought another one). This car has been mollycoddled all its life, there are absolutely NO dents on the car, no car park scrapes and everything works as it should. The car is in exceptional condition inside and out, even the engine bay is spotless. The car has full BMW history, all at the same BMW Main Dealer, all tyres have good tread with the front pair having only 500 miles on them.
There is absolutely no rust anywhere, nothing leaks, it doesn't use oil or coolant, no '50MPH shimmy', no tramlining or wander. It drives as straight as an arrow, without bonks or clonks. It doesn't suffer from any of the E38's common problems. It has been 100% reliable and has never let me down, it is an excellent example of what an E38 should be. Long-distance driving using this car has been effortless, the seats are so comfortable and the car is very quiet at motorway speeds. I have just done a 420 mile motorway journey, returning 32.9MPG for the complete trip, it really is a joy to drive, absolutely effortless with the power to safely get out of any problems.
This car is a facelift model which means that the V8 engine has Vanos (variable valve timing), this improves the economy quite significantly. More importantly though, the Vanos increases the engine Torque especially at low-revs, this makes it lightening quick from the lights. The increase in torque makes the car much livelier and makes 'B' road driving a real pleasure. The pre-Vanos V8's power only appeared above 4000RPM and for quick acceleration you needed to drop down a couple of gears, however, the Vanos-equipped engine pulls like a train from any revs.
This facelift model also has illuminated door-handles (inside and out), updated headlights and 'crystal' rear light clusters. They don't fill up with water and delaminate as the pre-facelift ones did. The projector Halogen lights are excellent, I have replaced the headlight glass giving the dipped beams perfect coverage, the mains are extremely bright.
The 7-series 740i E38 is a fantastic car, when cruising at 75MPH (it obviously has cruise control) you will see a return of 30MPG-33MPG on standard unleaded petrol. At this speed the engine is effortlessly turning at 2,250 RPM, on the motorway you will be able to hear every nuance from the 10-speaker CD system. However, if needed, the 740i will kick it's heels with a gentle prod on the throttle, 75MPH to 100MPH is achieved with no fluster and only a slight throb of the V8, brilliant for that quick overtaking move. And that is what is so great about this car, it is the best of two worlds. You can drive like a chauffeur, no jolts, no engine noise, just an effortless surge in speed. Or, you can tip the 'stick into Sports mode and hit the kick-down, the only thing that stops you leaving your tyres on the road is the super-quick Anti-Slip-Control (ASC) which electronically controls the throttle to a point where you accelerate blindingly quickly and still keep the tread on the tyres! All this achieved with the V8 roar which although subtle is pretty inspiring.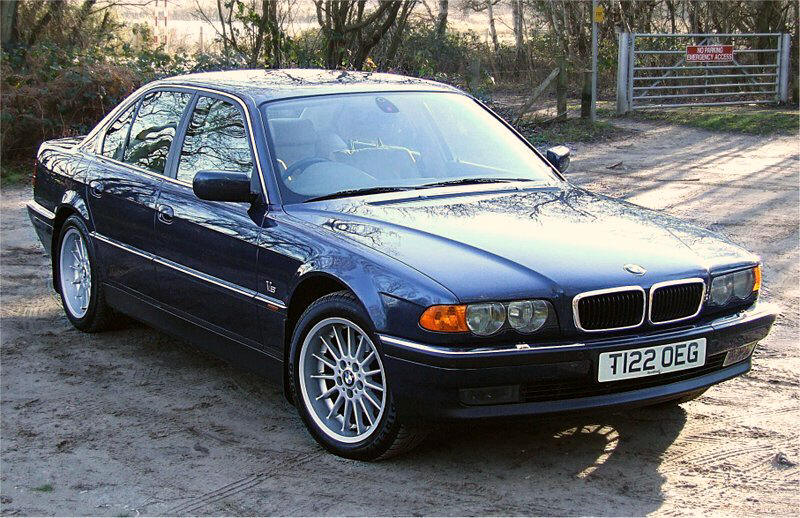 If you really want you can pretend to be driving a 5-speed manual (which you are!) by using the Tiptronic box. From Sports mode just push the gear lever forward and backwards through the box but without the hassle of a clutch or the possibility of sticking it in 1st when still going 70MPH. To be honest, the Sports mode will do better changes without a human in the command chain.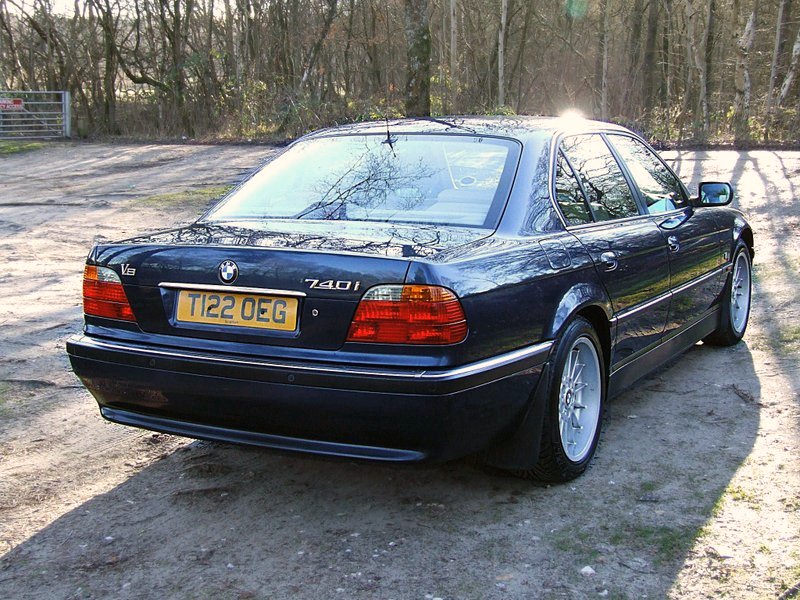 The Engine and Gearbox are adaptive meaning that they will learn your driving style, if you are doing long motorway journeys at steady speed the computers will lean out the mixture so that economy is realised. If you are more interested in spirited driving the 'box will change up later and the engine will deliver the power in spades. The 740i is the perfect compromise between the underpowered 728i/735i and the thirsty 750i. The M62 engine is very advanced with 4-valves per cylinder (32 valves!), quad overhead chain-driven cams, 8 ignition coils and quad anti-knock sensors for squeezing every ounce of power from any octane petrol. Fortunately this power is tamed by the DSC, unless you want to go sideways everywhere, then you can switch the DSC off!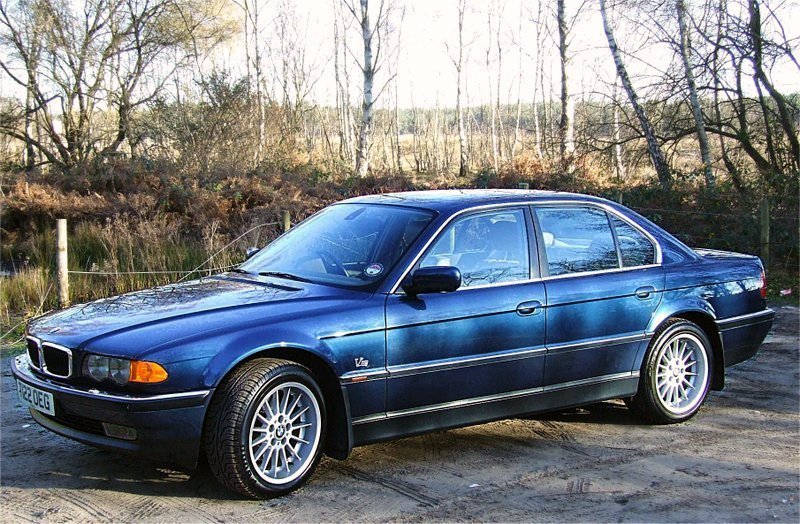 The On-Board-Monitor is a high-brightness LCD display. All sorts of functions can be performed from the central console, Sat-Nav, TV, Telephone, Hi-Fi tone controls, Aux Ventilation which can be set to cool the car before you set off in the morning. Many of the functions can also be controlled from the multi-function steering wheel. There is a Video/Audio panel in the rear centre console where a second monitor can be added to receive the TV programmes plus a channel selector for the TV. A rear monitor can display the TV signal when the front monitor is switched off. Alternatively a DVD player can be connected to the same panel so that the DVD can be played on the front monitor and the sound can be heard through the car speaker system.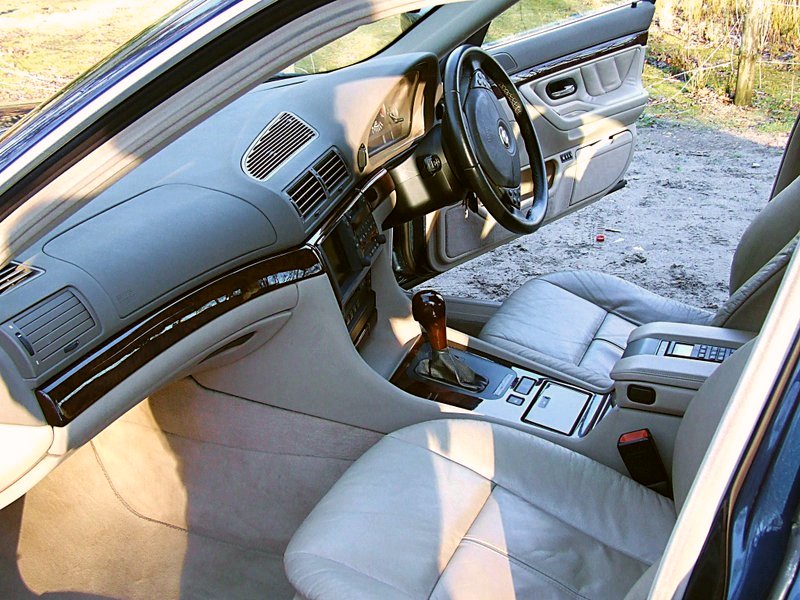 At night the BMW refurbished projector headlights give excellent illumination and the subtle interior ambient lighting casts an orange glow over the controls. Even the television monitor dims with the instrument illumination and with a choice of display colours.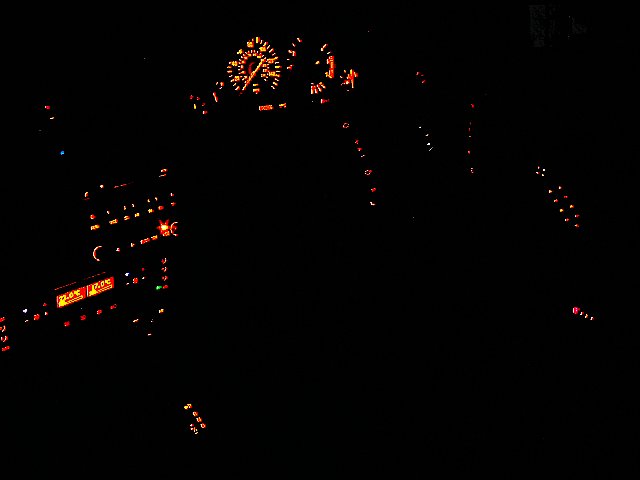 What hasn't this car got? Well it doesn't have a lot of faults that many E38's have:
It hasn't got 'missing pixels' mine are all present and correct
It hasn't got front-end shake when accelerating or braking, no clonks, bonks or shimmy's
It hasn't got rust on the boot lid (or anywhere else for that matter)
It hasn't got dull inadequate lighting, the refurbished Halogen projectors and mains are bright and sharp
It hasn't got a popped PCV valve, ticks over perfectly, no smoke and great power delivery
It hasn't got a Nikasil block with the associated leak-down problems, this is an Alusil engine
It hasn't got annoying 'Bongs', completely clear of Check Control fault messages
It hasn't got replica Alloys, these are original-fitment BMW 18" Multi-spokes with excellent tyres
It hasn't got a grotty spare wheel, the spare is an original 18" Multi-spoke that matches the other four
The engine bay is clean with no fluid leaks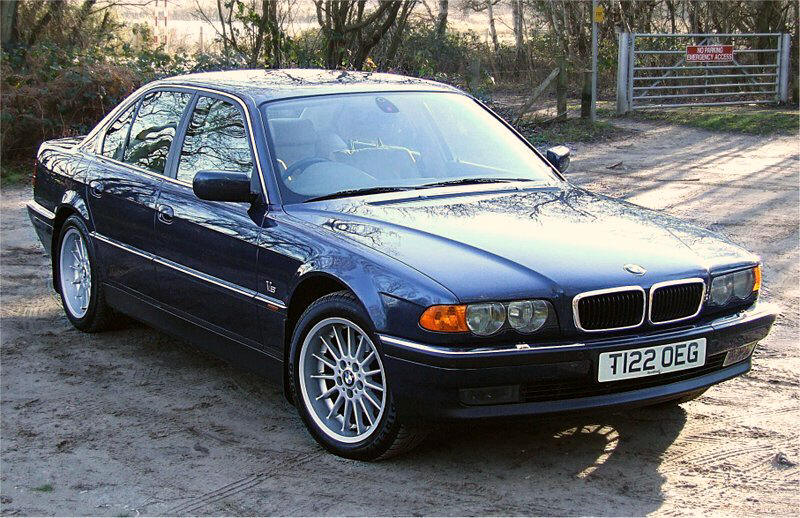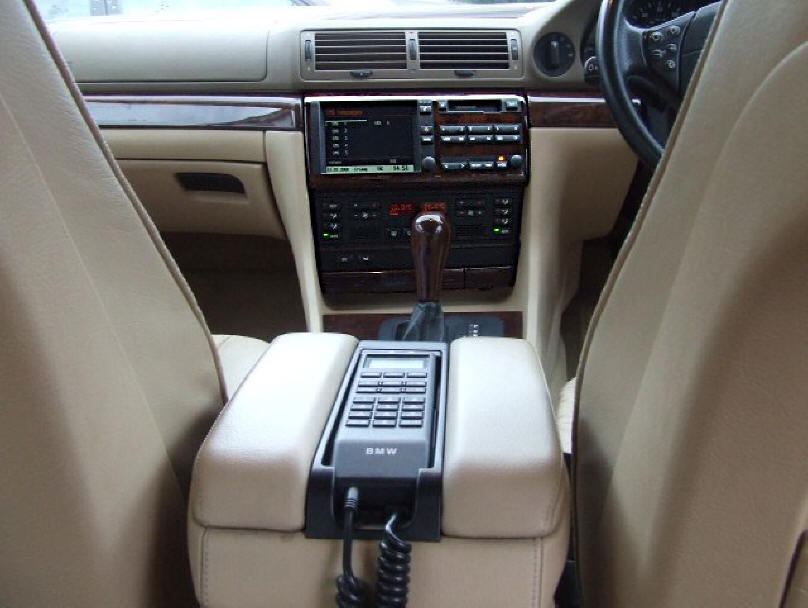 I will leave the current SIM in the phone, it still has credit and is O2 PAYG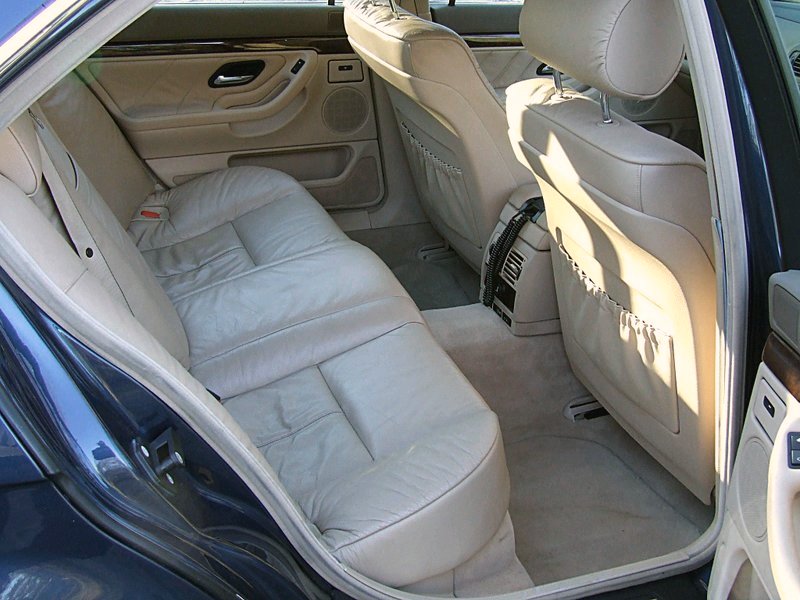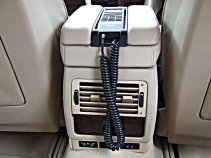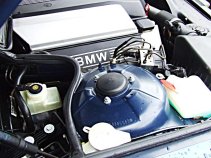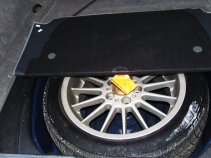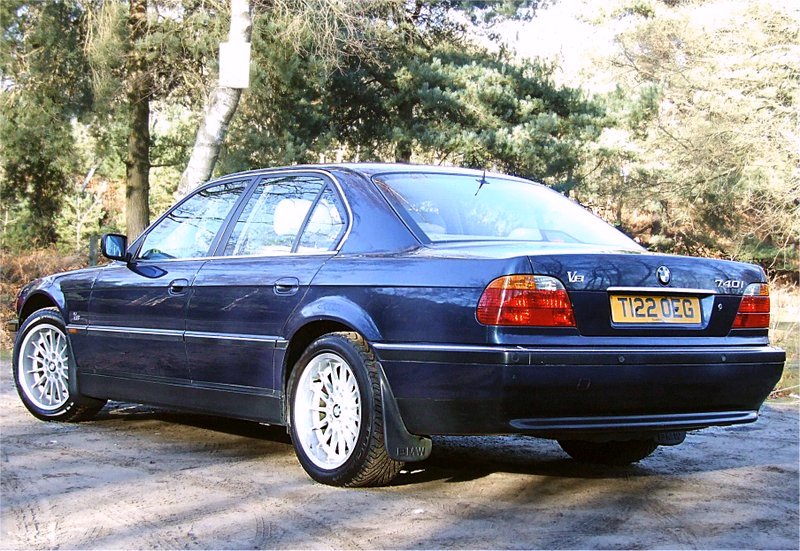 The car also has the standard 7-series E38 refinements:
Memory seats with three pre-sets. Includes nearside mirror that dips when reverse is selected
Cruise control with steering wheel controls
Electric Lift and Tilt sunroof with one-touch control and safety-stop strip
Remote full-closure and remote full-opening
Remote boot open and power-close
4 x Power Windows with 4 x one-touch open and safety-stop window strips
Full Leather
Six Airbags including door and 'A' pillar bags plus seat-belt pre-tensioners
Immobiliser with transponder keys and alarm system
Anti Lock Brakes
RDS FM/AM radio with traffic announcements and dual-diversity aerial's built into rear window
6-CD changer in boot plus tape player in front console with Dolby B/C, music search, auto-reverse
Stainless-Steel Twin exhaust system with twin catalytic converters
Halogen projector headlights
High-level brake light
Walnut trim on console and all doors
Dual-Zone Climate Control with restorative heating (heating works if engine switched off when at operating temperature)
Digital temperature setting with fully automatic fan speed control
Fully automatic one-touch window demisting
Automatic air recirculation (senses pollution and recirculates cabin air until pollution level drops)
Servotronic steering which controls assistance depending on speed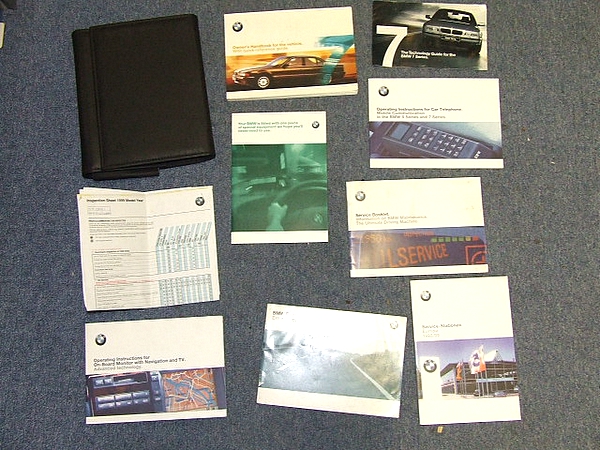 I have all the original documents and the leather wallet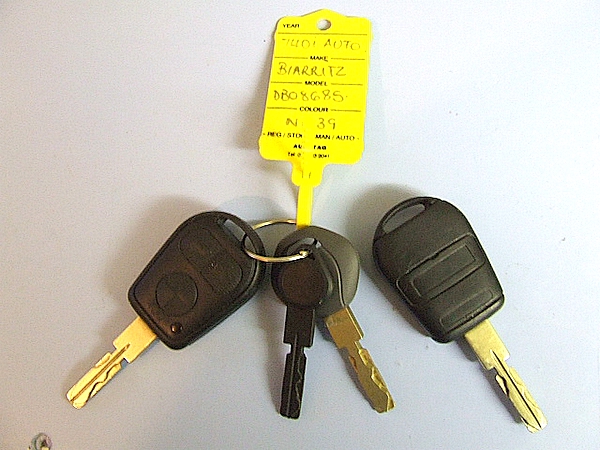 I have the four original keys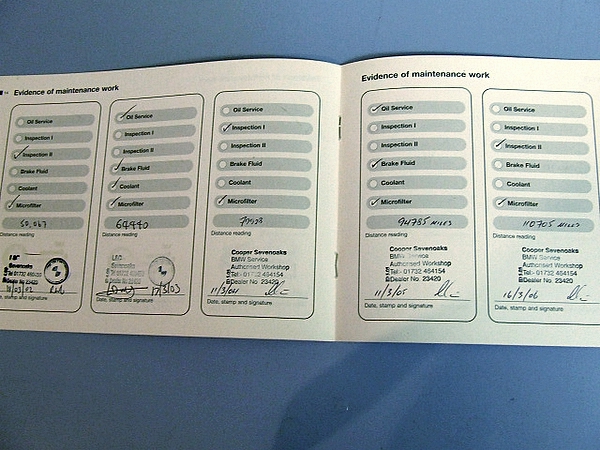 The bad bits
There are a couple of areas on the rear alloys where the powder-coating has peeled, the rest of the coating is in good condition
The ASC light is showing. When I first purchased the car it used to show ABS, ASC and Brake Warnings when the car warmed up, the ASC and ABS would stop working. It didn't worry me except that the three orange warning lamps made me look like Dale Winton in the dark, but for the purposes of selling the car I decided to get a new ABS controller (this was a weak spot on the facelift models of '99). I have fitted the new controller (£350 from FAB), but despite assurances that it would not need coding to the car it does! I will try to get this coded before the end of the sale (£35 at BMW main dealer), if I do not manage this I will knock £50 from the final sale price. I can assure you that the new ABS controller is OK and I can provide the warranty and paperwork to support this. There are no problems with the ABS when the car has warmed up now and the ABS and Brake Warning lamps do not come on which was the original problem.
Conclusion
It is always a worry when buying a 7-series that there will be all sorts of problems with it and it will cost a fortune to keep it on the road. My first E38 was one such car which 28 different problems and I spent my time repairing it rather than enjoying it. The reason for that was the servicing was carried out by 'Independent Specialists' who slowly break bits and devalue the car. I have seen some absolute horrors when viewing E38's.
This car is not one of those, it has been 100% reliable and drives like a top of the range BMW should. Servicing these cars using BMW's 4+ and 7+ schemes means that a full Inspection II service is £200 using all original BMW parts and fluids. The Service Record (all done at Cooper Sevenoaks) shows it has been looked after consistently and is the reason everything works correctly. It hasn't been thrashed to death or had 'enhancements' fitted, it is just a straight, honest example of a facelift 7-series. The only non-standard parts are the 'V8' badges which seems to elicit some respect!