Timm's BMW E31 840ci SPORT INDIVIDUAL

Full BMW Service History 1999 E31 840ci 8-Series V8 4.4Ltr
This car has the usual E31 refinements plus:
3.15 LSD Differential Heated Sports Seats 18" Rondell 58's Motorised steering-wheel Becker Sat-Nav
Servotronic Steering Sports Exhaust c/w 200 cell cats 10-speaker MP3-CD Hi-Fi Cruise control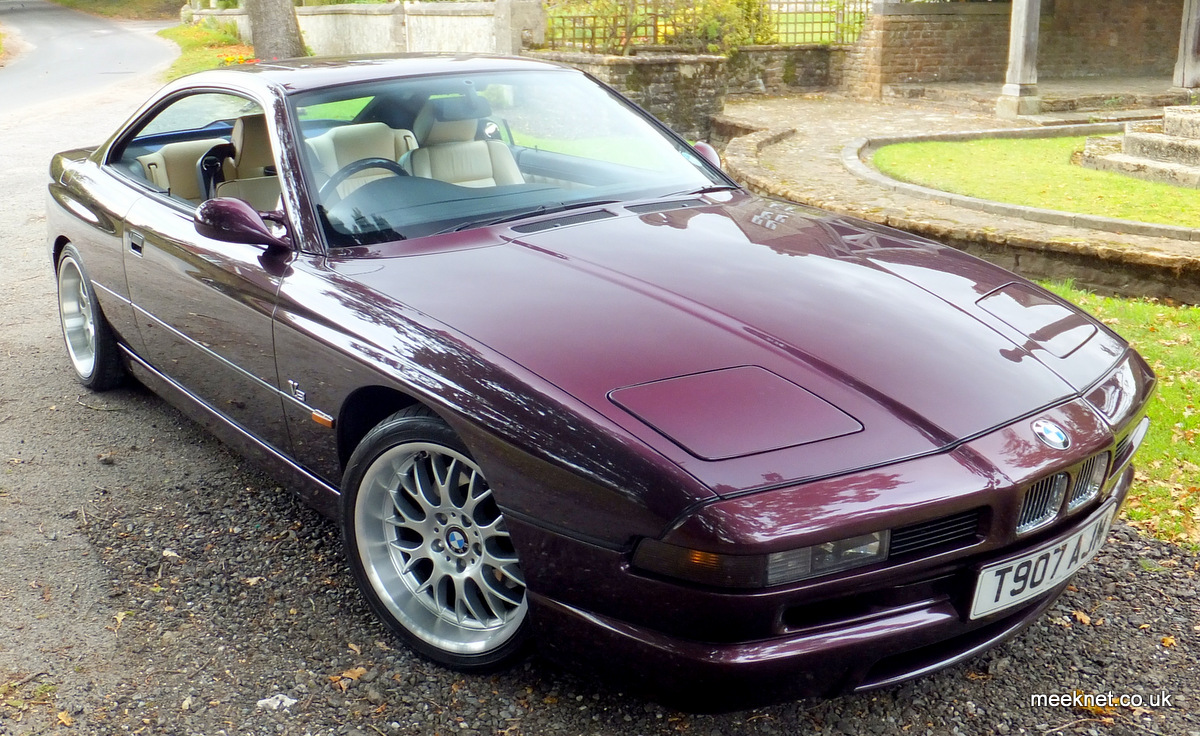 This is my second 8-Series and is pretty special, one of 3 finished in Mora Metallic and Champagne Nappa/black interior. I wasn't looking to buy another 8-Series, being perfectly happy with my Orient Blue '97 840ci. But, being an owner of a 740i in Mora Metallic with Champagne Nappa interior, when I saw this advertised on Pistonheads, well, I just had to buy it! The viewing was OK, but the alternator bearing was growling away and there was rust on the rear wheel arches - which was hardly surprising seeing as the arches were completely solid with dried-on mud! I made a deal where the seller had the alternator replaced and the rear arches sorted - which he did - and off we drove in the new car for the 160-mile trip back.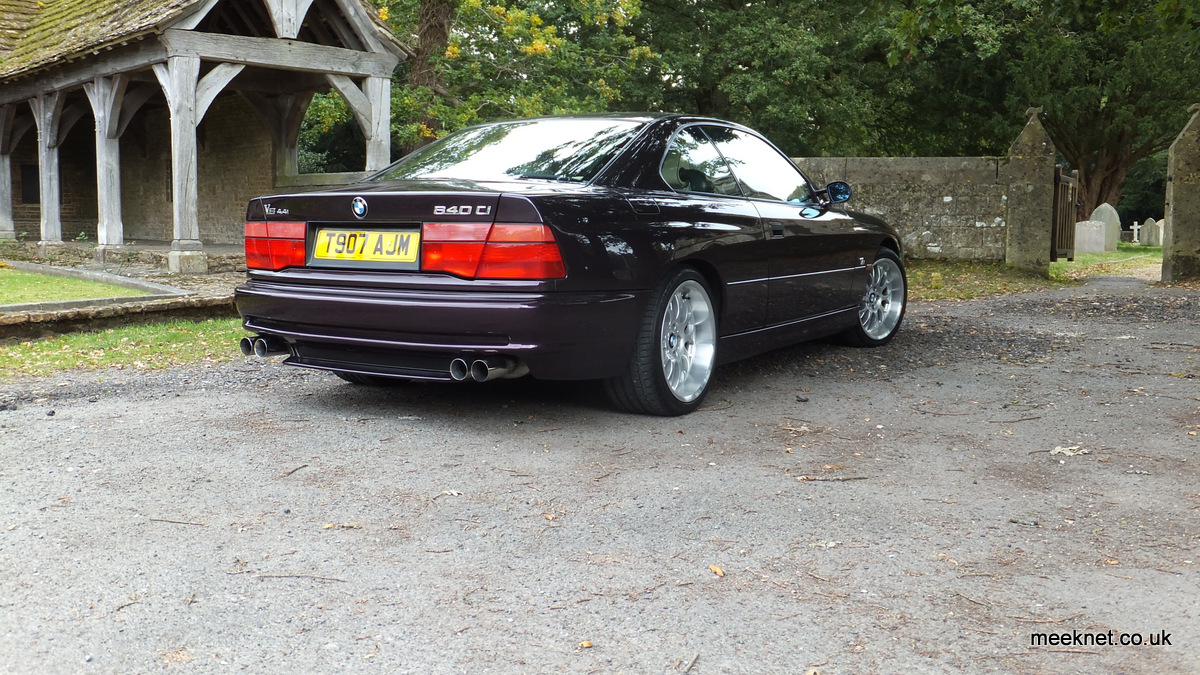 I've always fancied some Rondell 58's, so I bought a new 18" set from Projex in 2011 - and a good job too as they are have been discontinued in 18" at the time of writing (2015). As with the M-Pars, I have a bad habit of clouting kerbs with the nearside pair - fortunately I have a reasonable way of removing the kerb-rash these days that takes 30 minutes per wheel. The next set of tyres will be Goodyear Eagle F1's as these afford a lot more rim protection compared with the current Falken 453's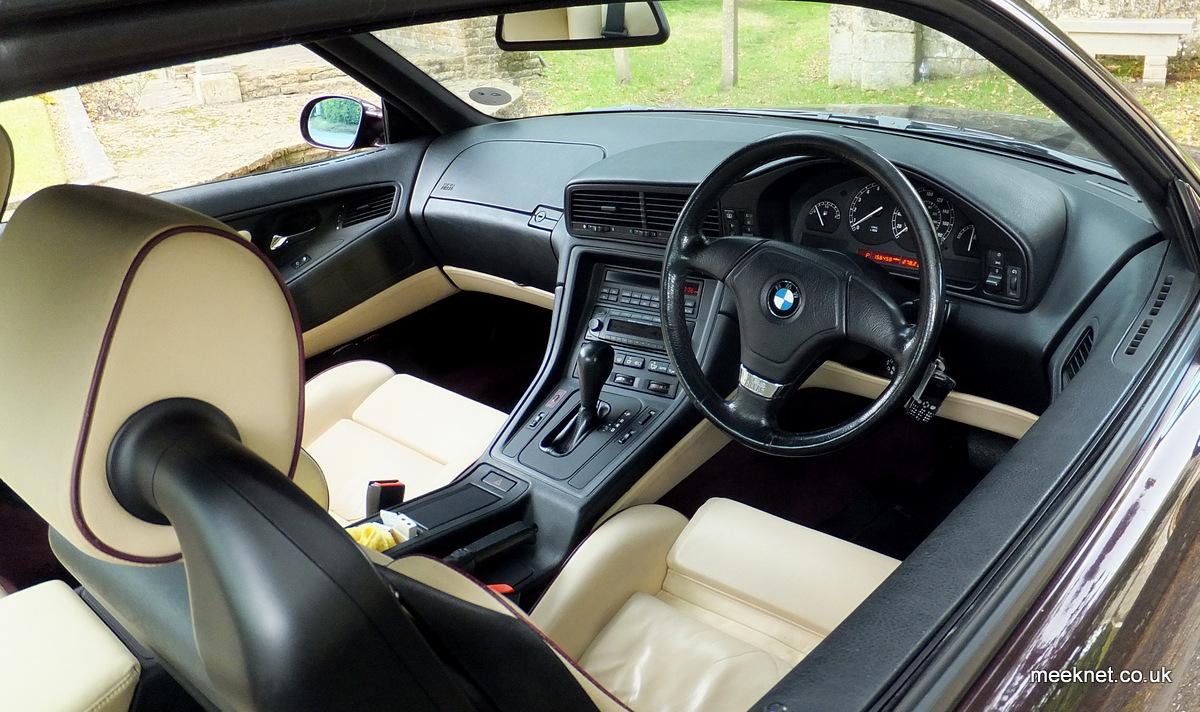 The interior is absolutely stunning, great contrast between the black finish and the Champagne Nappa leather with purple piping. The CSi door-inserts are a nice touch as well. The leather, generally, is in excellent condition, but there are some darker veins in the leather which will need some fettling, not something I've done before so that will be interesting! - now refurbished using Tarrago upholstery polish for £5! This car has cruise control (which was fitted as standard in all USA cars), and that was one option I missed on my last 840ci. The speed restrictions in the UK are strictly enforced so I find the cruise control invaluable so that I can watch the road rather than nervously watching the speedo.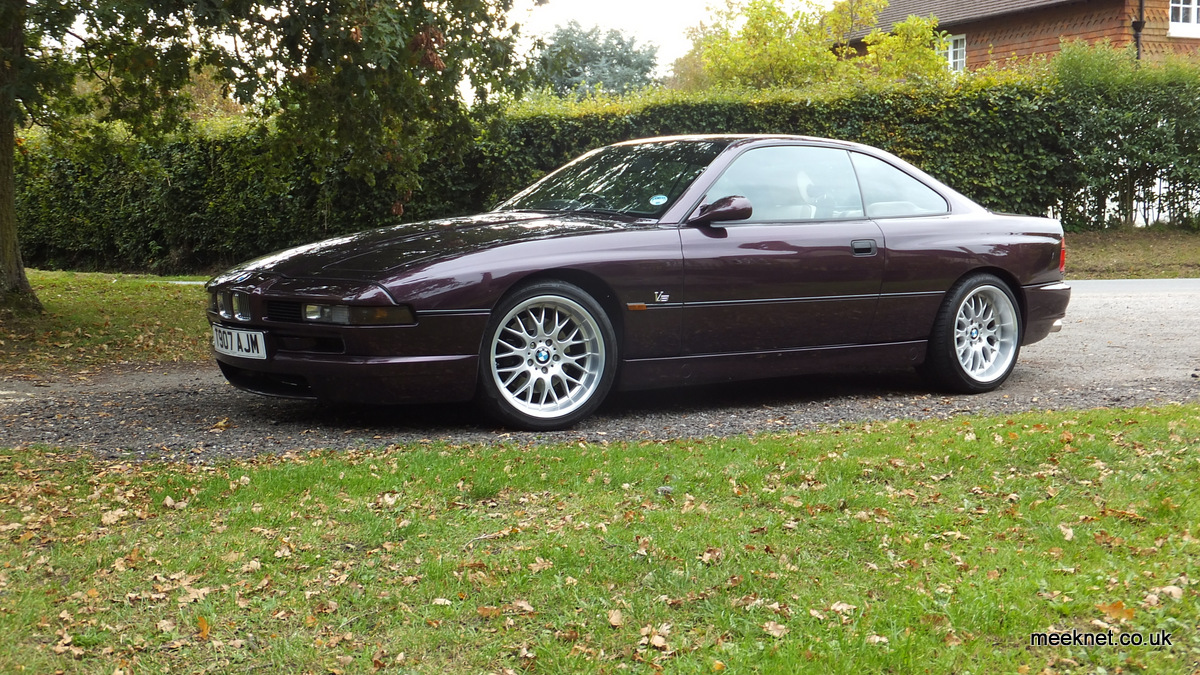 Mora Metallic is not universally loved, it can look brown in poor light, but in direct sunlight it comes alive with purple and blue highlights. But, it takes a lot of polishing to keep it looking good, a lot like Cosmos Black in that respect. I'm quite used to it after owning a Mora 740i for the last five years, but it is not to everyone's taste. The front spoiler has been performing a bit of 'nudging' in the cars life, and I will have to re-align a few parts at some point, but it's all hanging together nicely.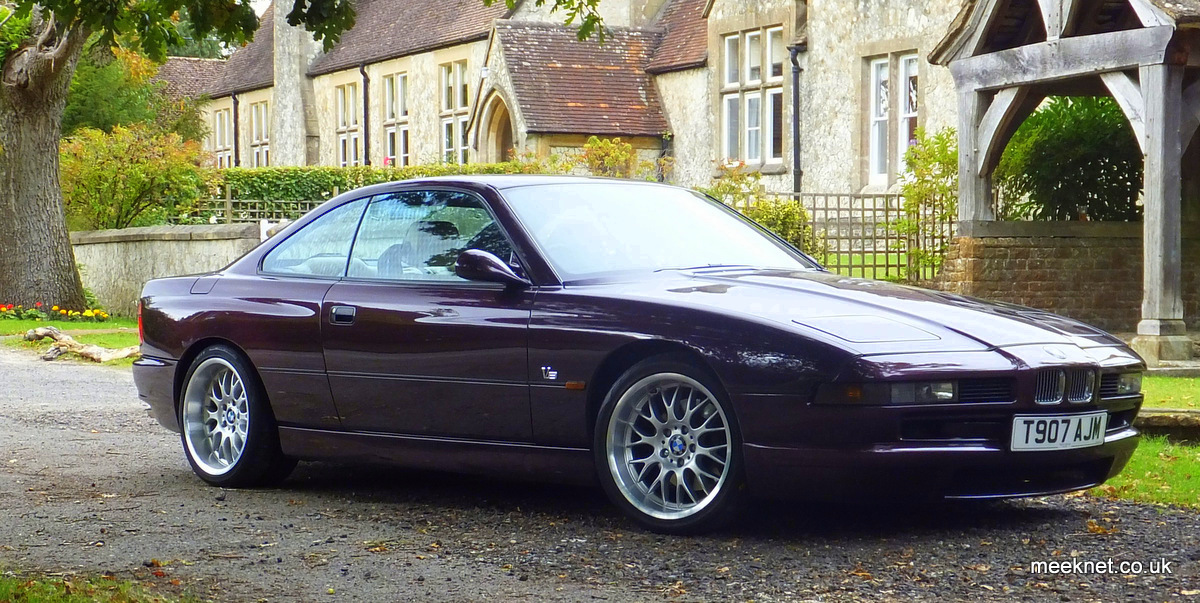 In the three years I have had the car a few things have been replaced, the replica M-Pars have been replaced with Rondell 58's which are now fitted with 235/40/R18 and 265/35/R18 Falken 453 tyres. The original 4-spoke steering wheel was replaced with a three-spoke from an E36, the head unit was replaced with a Becker Sat-Nav unit. The exhaust system was replaced with a cat-back S/S system including a fabricated 'X' pipe in place of the resonator - and recently the cats were replaced with 200 cell Sports versions. The diff has been replaced with a 3.15 limited slip unit from an E32 750i - and these last two changes have changed the character of the car - it now manages 0-62MPH in under 6 seconds!
Reliability on both E31's has been excellent, we've only been stranded once when the water pump bearing exploded - apart from that, cat failure, camshaft sensor failure, CV joint wear and a coolant explosion at the auxiliary pump has made the trip interesting but hasn't stopped us for long. Of course, meeknet is full of repairs and servicing on these cars, but this is usually trivial stuff only to be expected on an old thoroughbred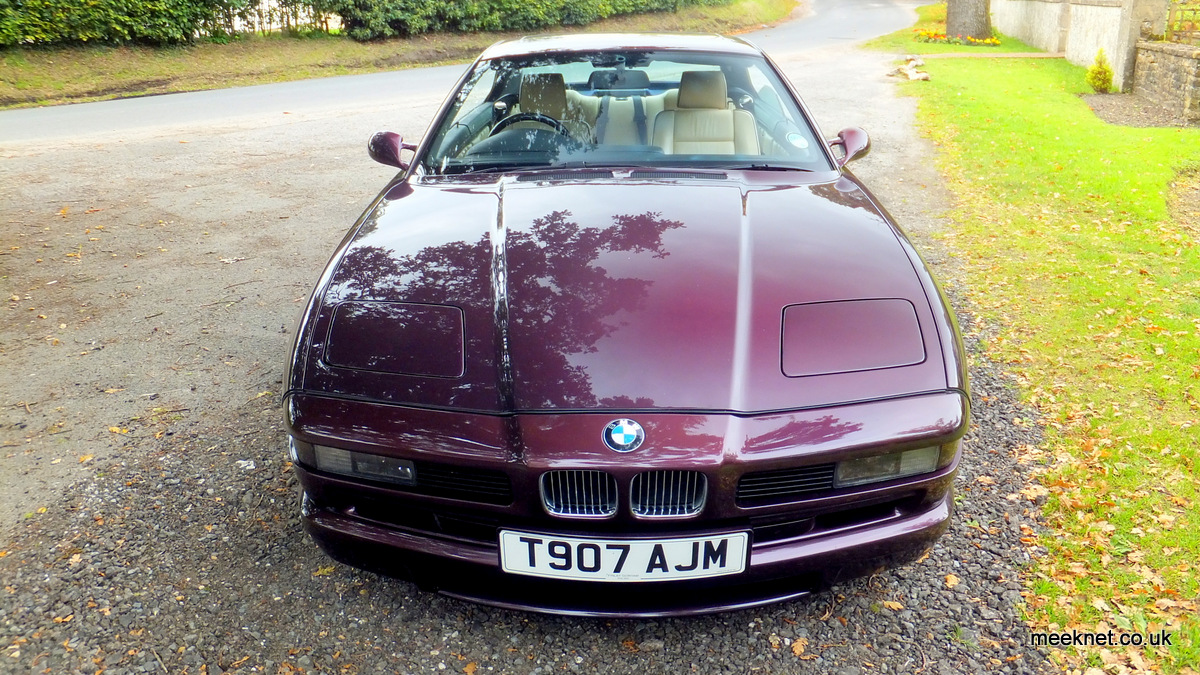 The Engine and Gearbox are adaptive meaning that they will learn your driving style, if you are doing long motorway journeys at steady speed the computers will lean out the mixture so that economy is realised. If you are more interested in spirited driving the 'box will change up later and the engine will deliver the power in spades. The M62 engine is very advanced with 4-valves per cylinder (32 valves!), quad overhead chain-driven cams, 8 ignition coils and quad anti-knock sensors for squeezing every ounce of power from any octane petrol. Fortunately this power is tamed by the ASC, unless you want to go sideways everywhere, then you can switch the ASC off!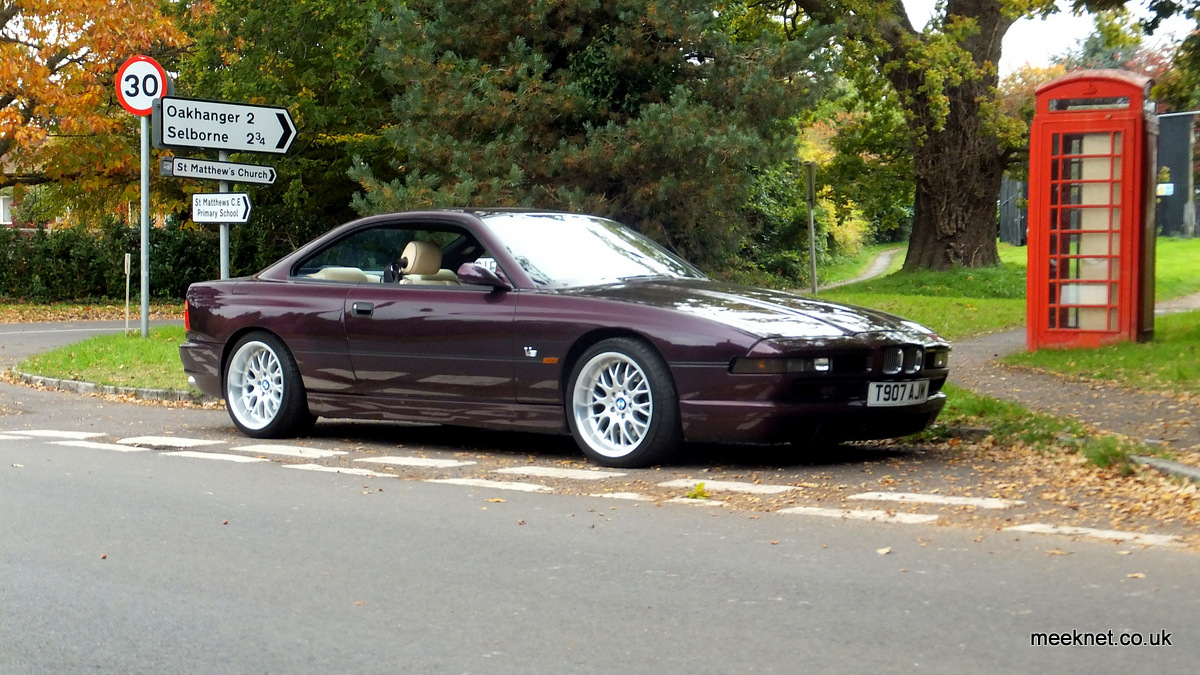 The centre console is a work of art, so German in design with its functional and ergonomic appearance. These often suffer from fading displays where a number of columns of pixels fail, fortunately there are no problems here. The design shows its lineage with the E32, the dual-climate control is almost identical except the wheels are below the buttons. The on-board-computer is closer to the design of the E38's MID, but looks can be deceptive as the E31's OBC is a self-contained unit whereas the E38's MID is a simple controller and display. The Becker Indianapolis Nav and the three-spoke wheel are retro-fits.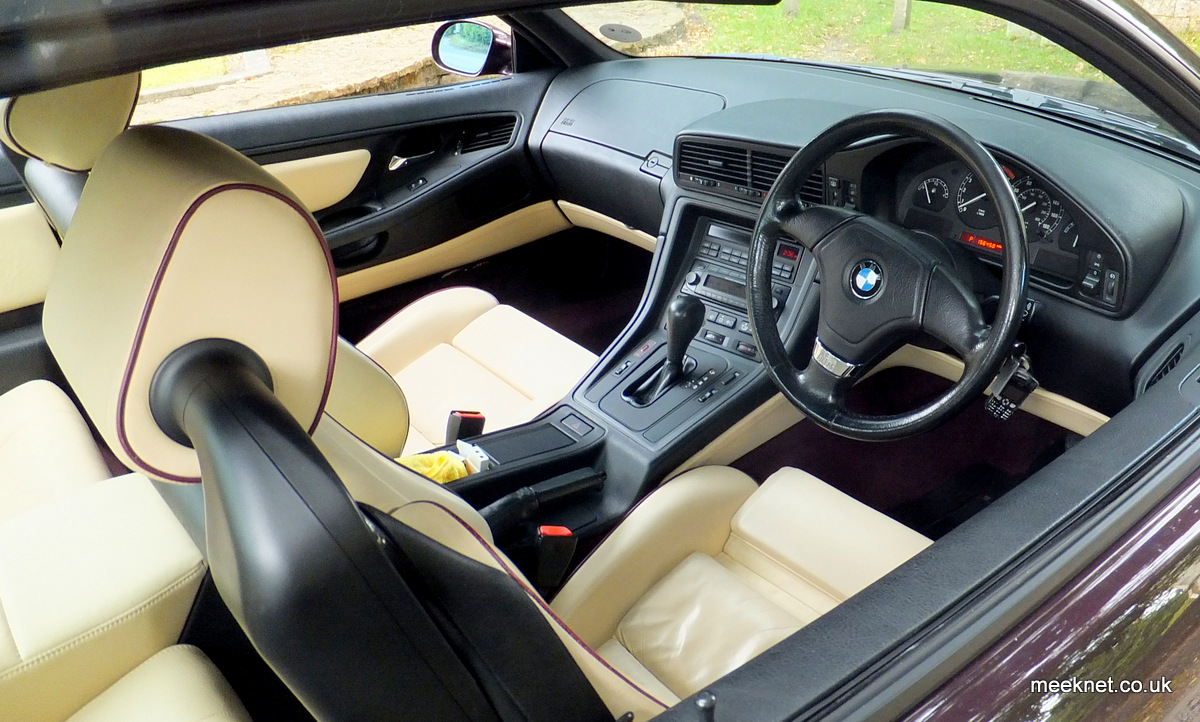 This car has the dual-level heated seats which is a 'must-have' in England, although the M62 reaches temperature pretty quickly there is nothing like the cosseting of heated leather in the morning. The ASC (anti-slip control) works so much better than it does on the E38, it seems to reduce power rather than just switch it off as the latter car does. This, combined with the better road-holding of the E31 gives a much more confident feel. When reaching the limits of adhesion the E31's rear end loses grip in a controlled way, unlike the E38 that sticks until it lets go in a big way, usually leading to a scary tank-slapper that stops you wanting to push it again!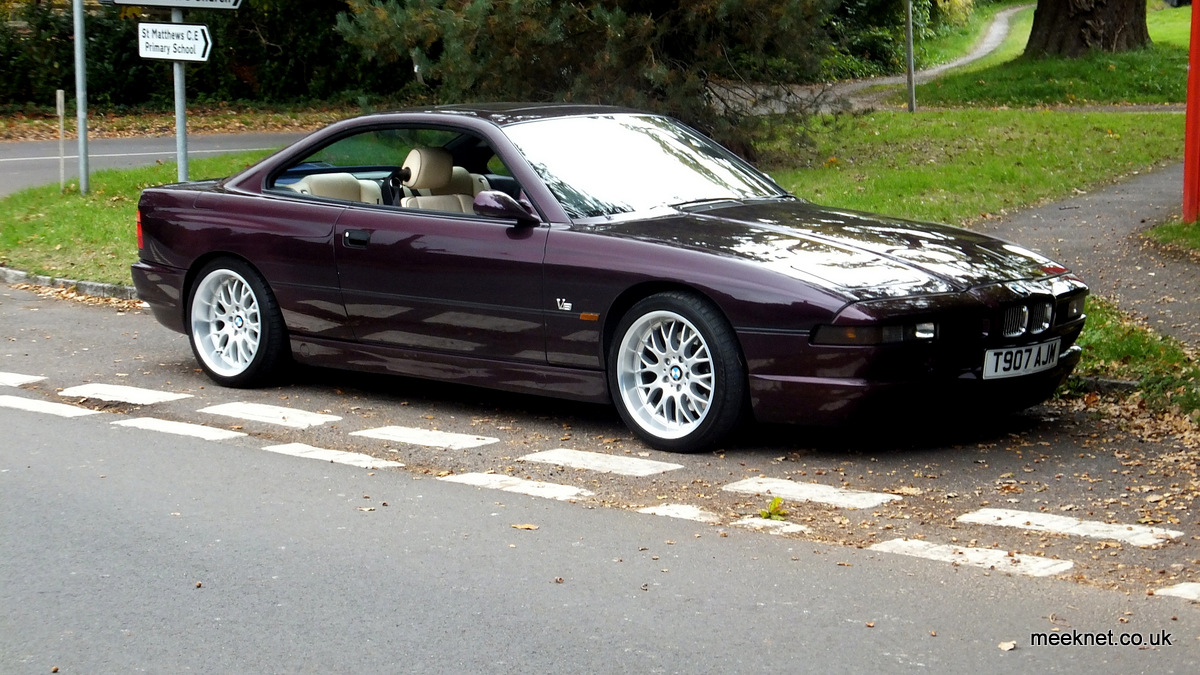 At the end of 2015 it's been seven years of 8-Series ownership, I now have a 650i which is faster, quieter, more comfortable and uses less fuel - but if I had to get rid of one car it would be the 6-Series. Once you have owned an E31, there is no going back - be warned!