TIMM'S BMW E32 ALARM SYSTEM 3
If you've got one of these....read on....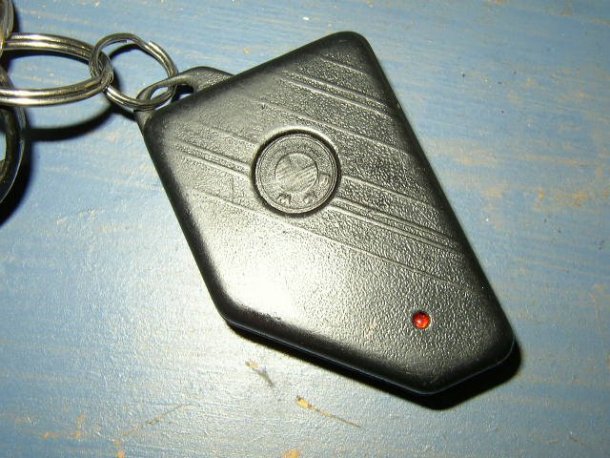 This information regards the BMW Anti-Theft System 3....or as it's better known...the matchbox with the corner cut off.

First of all....here are the instructions for the alarm which often is lost or missing when you buy your car.....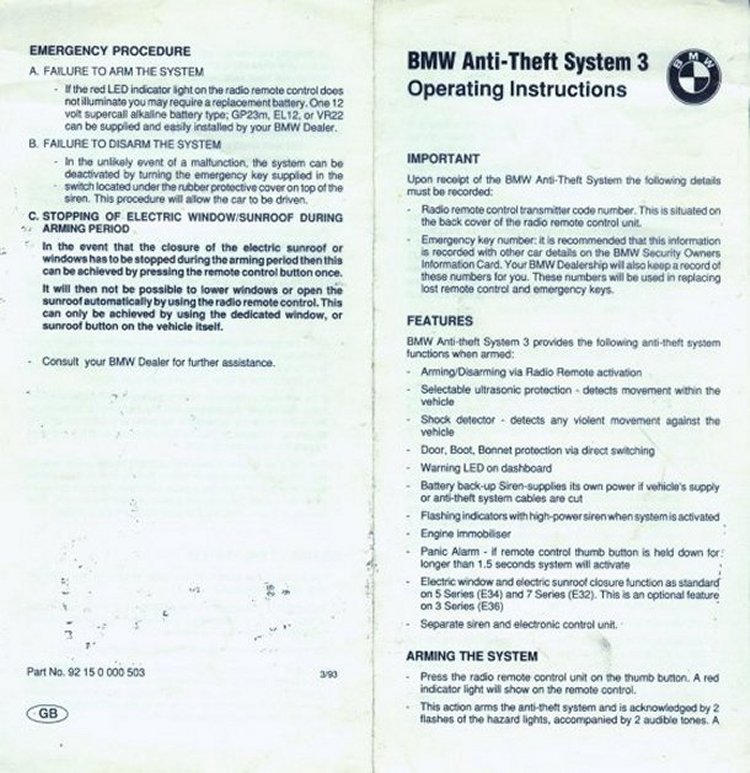 .....inner pages........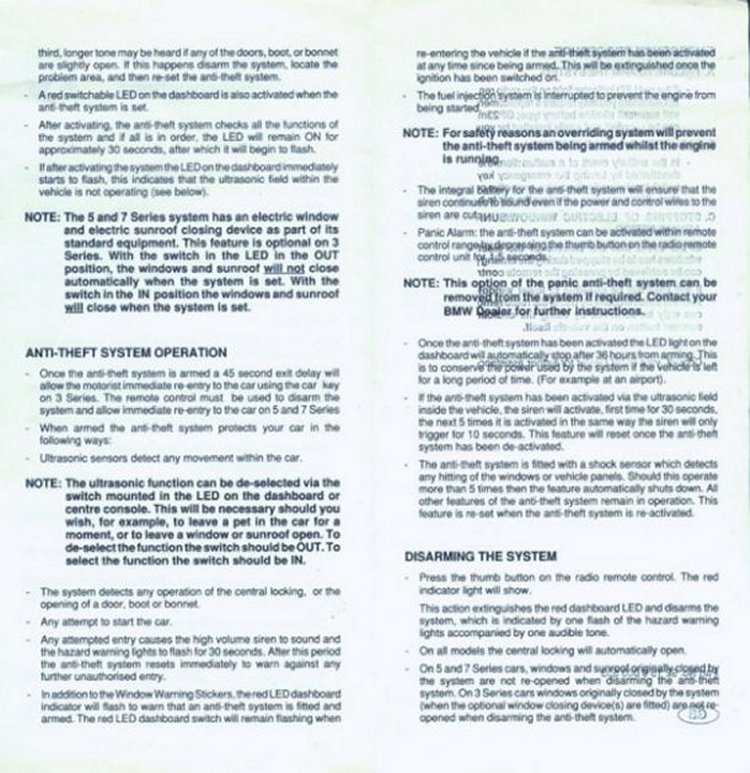 This alarm system was an option when the car was bought or could be added later. Instead of the standard Infra-Red (IR) system this is a Radio Frequency (RF) unit. The design is based around an IR coding IC but has an additional RF stage stuffed on. Unlike the IR model this fob cannot be re-programmed by holding it over the centre vent LED.....it is all hard coded using solder links. There are 14 links which can either be left unsoldered (open) or soldered (closed) giving 16,384 different combinations. If you buy another fob from Ebay then you can solder the links to match the old one and it should work...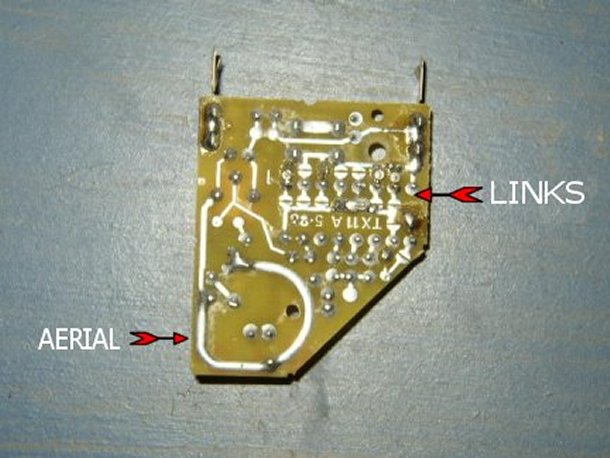 Here's the front of the key fob innards.....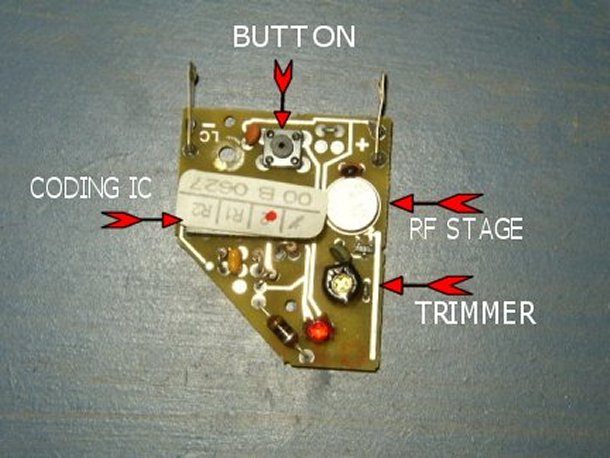 The alarm unit itself lives under the rear seat. Most of the wiring is connected to the General Module as this is where it picks up the 'open door' signals. Additional wiring is run to the 'window break' sensors that are fitted at the top of the front windscreen. Here is where the alarm unit lives....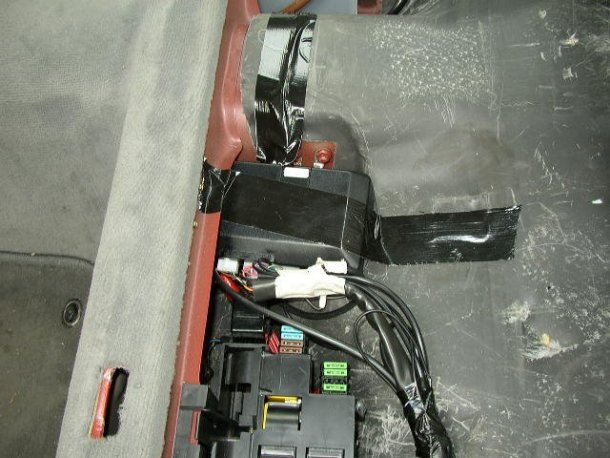 My unit was rather feeble when I first had the car, I needed to be this close to operate the alarm....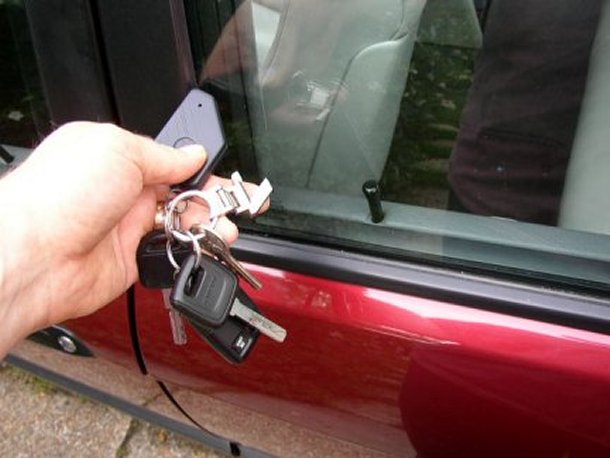 I tried the usual change of batteries but the range got no better. The fault was eventually traced to the aerial that came from the alarm unit under the rear seat. The aerial is just a length of wire that pokes out from the alarm unit and this had drooped below the unit and was getting little reception.

The simple fix was to tape the aerial across the cavity under the seat so that it kept in a straight line and was less obstructed by the metalwork.....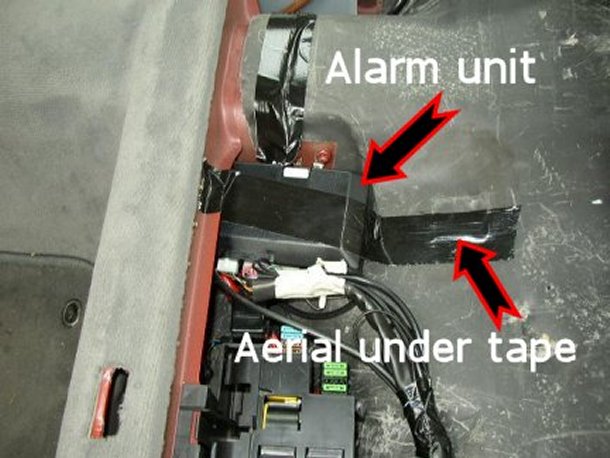 That fixed it! Full range available now and has been no problem since...

Time for a cup of tea....